Mithila has been that region in this vast acculturation called India that contributes to the maximum creative minds so far art and craft comes into consideration. Sikki craft work is one such talent that only women in Mithila can possess and can pass onto their daughters. A fistful of golden grass that grows in the Northern part of Bihar is worth all the efforts one craftswoman takes to visit the weekly market in Sitamarhi district.
Tall and bushy, the grass seem attractive having covered almost all the regions in that soil (see Image 1). The grass is first cut near its base and dried for a couple of days. These fine strips are made into a wide variety of articles to be used for household purposes that stretch from bags and baskets to dolls and decoratives (see Image 2, 3, and 4). The history of this craft form is unknown, yet its value is cherished in every little hut in Mithila, for its ritualistic as well as domestic usage.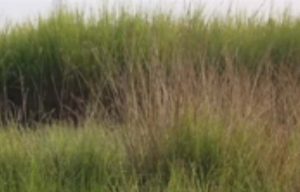 Image 1
Source – Albele hathon ka hunar, Episode 25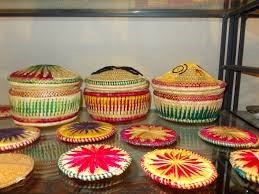 Image 2
Source – www.bodhivriksha.wordpress.com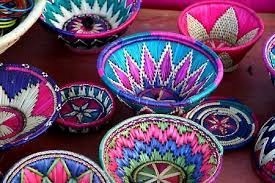 Image 3
Source – www.craftandartisans.com
Image 4
Source – www.wikipedia.org
This craft form is not just an art that is practised to earn a living but is like a medium for all the women in the state to empower themselves and prove their ability by winning their daily bread. Not only in Bihar is this work of perfection known, but also throughout the country, people buy Sikki handicrafts to either make use out of it or decorate their homes.
A particular notion that has been carried on for generations is that, a girl in Mithila when goes to her in-laws after marriage, she must carry with herself a collection of her Sikki woven crafts so that the people in the new village can assess her creative skills and crafting ability.
Various products are woven and sold like containers to store spices, grains, sweets called Jhappa, trays to carry flowers, fruits called Mauni, little boxes to store jewel items called Pauti, flower baskets called Saji, bowl like containers called Gumla and beautiful show pieces. The very reason for its popularity is it being light in weight, biodegradable, organic and thus, eco-friendly. Moreover, being produced in cottage industries and in the house of local women, Sikki craft accounts to being genuine and pure in its quality. Process (or Techniques) –
Below is a link to – Albele hathon ka hunar, Episode 25 by DD Kisan
https://www.youtube.com/watch?v=1UqoFHE8xsI
Firstly, the process of Sikki crafting begins from the grass collection itself. After the rainy season is gone, women set their feet in the wet and marshy area of Madhubani district to collect the golden seasonal wild grass. Having attained sufficient height, the Sikki grass is cut off from the base and left to dry under the sun for several days, then the portion above the flowering stem is removed and the left over stalk is split into two with a pair of scissors or alternatively, by teeth (see Image 5).
Secondly, the flowering stem of Sikki is of no use in crafts making for which it has to be discarded and the rest has to be finely sliced and shaped with the help of a choori (knife), see Image 5.
Thirdly, the grass being golden in colour looks beautiful when woven into different products, but the women sometimes, to make it look fancier use dye that varies from red, black, blue, pink, purple, orange and green. The Sikki strands are left to boil in the dyes in order to get itself fully coloured.
Munj and Khar are two other grasses that happen to be an essential raw material which are abundant in this particular area. Finally, the Munj at first is coiled around itself and transformed into a frame upon which the laces of Sikki are woven such that the Munj is not visible. Inorder to weave, a sharp needle that stands 6 inch long with a rounded head made of lac for a comfortable grip, called Takua is used. The Takua (see Image 5) happens to be the only main tool during the process which has to be inserted into any small gap created within the tightly coiled Sikki and pulled from the other end and continued until the whole product comes into its shape. The desired shapes are made with the help of ordinary grass known as Khar which has to be coiled and enchased around the Sikki, exactly like the one done in case of Munj. The right hand is entirely free to weave while the other hand has to firmly hold the Sikki. Before being woven, the Sikki is left to soak so that wielding becomes easier.
Image 5
Source – www.swadesi.com

Image 6
Source – Albele hathon ka hunar, Episode 25
Different sizes of containers and bags can be woven in a similar way, however, products like stools and chairs made out of Sikki needs a rather stronger structure for which cane is used. Furthermore, curtains are made out of Sikki grass that requires a rod as its partition.
When perfectly woven into their desired product, the Sikki crafts are transported to nearby markets to be sold.